---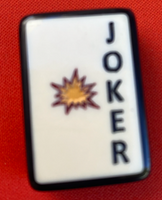 Single custom Replica Black Enrobed tile. 
PLEASE NOTE: Shipping may be up to three weeks from ordering since this is a custom engraved single tile.
Price is for one custom laser engraved tile to match your missing black enrobed replacement.
Do you play with Bonus Jokers or Boom Jokers? Email us with your design idea. Most designs do not incur an additional design fee. An additional design fee of $25 may be incurred. We will advise upon receipt of design idea. 
We will contact you to discuss the design. Any questions, send an email to us at ModernMahjong@gmail.com.