---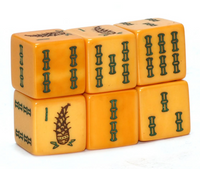 These standard size 15.5 mm size limited edition vintage Mahjong Dice™ are engraved and hand painted with green and brown highly coveted sprout bamboo design for the one. Sides two through six have an engraved and hand painted green bamboo design.
Purchase is for one pair of authentic, vintage standard size 15.5 mm Bakelite Mahjong Dice™.  Photo of six dice is shown for informational purposes only.  
Please note: Our Bakelite Mahjong Dice™ are engraved and painted on authentic vintage Bakelite that were manufactured almost 70 years ago. There may be some variation in color as well as manufacturing remnants such as small chips or nicks.
We believe that the variation in color adds to the uniqueness of these beautiful and unique dice.