---
Modern Mahjong - we began with a beautiful roll!
Welcome to our women-owned small business website, ModernMahjong.com.
In April 2019, we designed Mahjong Dice™ so players can begin with a beautiful roll. Our Mahjong Dice™ elevate and complement mahjong sets, whether vintage or modern.
Since we started our business, we have combined mahjong and mitzvah and strongly believe in giving back. Thank you for your support of our mah jongg gifts and accessories business.
Check out our our Mah Jongg Pet Collection, East Wind Indicator, Tile Indicators and more!
Within certain collections below, many of our designs are available in several color and hand painted design combinations. 
We began with a beautiful roll and continue to roll out new mahjong gifts and accessories to enhance the beauty of your game. Any questions, feel free to email us at ModernMahjong@gmail.com.
Peace Love Mahjong,
Dara and Donna
As Seen In!
At Modern Mahjong, we believe in giving back to our community and supporting causes that matter to us. That's why we are proud to donate a portion of our profits...
Many businesses are born of a passion. Some are born of a friendship. Dara Collins and Donna Miller Kassman's business, Modern Mahjong, was born of both. Which just happens to be...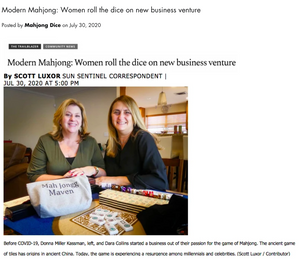 Modern twist on mahjong! A great article about our business Modern Mahjong and Mahjong Community! The interview took place way back when we were playing in person and was updated to include online...